123 Contact Backup
123 Contact Backup is a contacts backup app that's super simple to use. By default all Android devices automatically sync and backup to Google accounts, however, if you require an easy app for exporting your contacts data, then 123 Contact Backup can do the job. In works in three simple steps: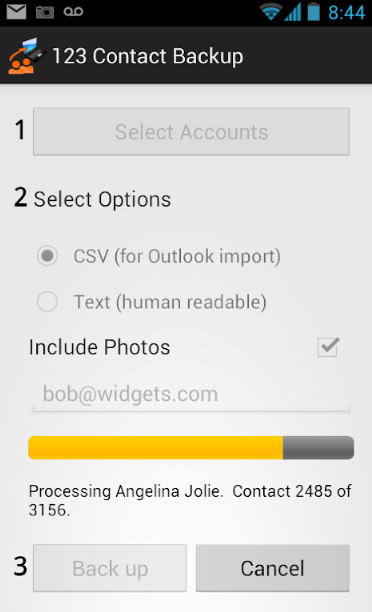 1. Select which Google account(s) for backup. This also supports SIM card contacts.
2. Choose between CSV or plain text format. CSV is great for importing contacts into programs like Microsoft Outlook, while the text format is easier to read. You can opt for including contact photos and at this step you enter an email address to send the file to if you desire.
3. The final step is to tap the Backup button and the app will start processing your contacts.
That's it! If you choose the CSV format you'll notice it saves to a Zip file- photos will reside there if that option was chosen. There are no advanced features like scheduled automatic backups, cloud sync, etc. as it is designed to be easy and on demand.
If you're looking for a straightforward contacts backup app then 123 Contact Backup is one to try. There are no advanced features but it gets the job done.